Posted by

Mongo
Sunday, February 6, 2011
Probably not, but I understand. Here's what's up. I had to take an unannounced and extended hiatus from Mongo Blogging. One part was due to the holidays. The other, more exhausting part has been moving on to a new job. After nine and a half years with the same company I took on a new role with added responsibility and risk. That also meant a longer commute, three times longer. Luckily, December was a good month for me and I kind of left the shop to run

itself

. I appreciate all of the fans and friends who helped make this December better than last year.
I kind of got my wish in that I gained more exposure from various sources in the Pittsburgh area and across the globe. Unfortunately, the stars aligned into a perfect storm and not only did I get more exposure, I had to kind of disappear to get my house in order once I left my old job after the New Year. Being that this not my main source of income I've had to push it aside so that I can focus on making sure I have the bandwidth to continue. I'm still juggling my time and keeping the Mongo Marketing Machine on autopilot.

HootSuite

rocks the

hizzouse

. Did I spell that right? [

throws

awkward gang signs]
That doesn't mean I'm throwing in the towel just yet. I've still been doing some designing and there has been a lot of stuff that has come out in the last month that will show up here to be discussed. I'd also like to partner with some of my peers for some exciting projects. I just have to figure out my timing and find a rhythm. Life, like business, can thrive once you figure out what can become a repeatable process. Then you can let that run its own course and focus on the future.
Mongo is getting in my head and he wants to speak up more. Originally, Mongo was the voice of the shirt designs and I got away from it. But, now that I'm a little older and a little wiser, Mongo may get his chance to go

apeshit

. First up, here is a new logo for you all to shoot holes through.
See more Mongo madness
here
Now, here is the new logo side by side with the old one. It's a little

more geeky

, with an emoticon motif, but kind of speaks to a monosyllabic style of thinking Mongo has.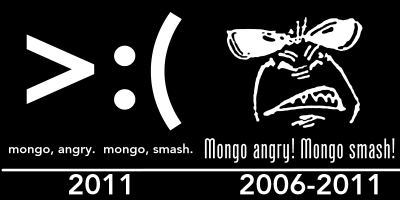 Why the change? Well, when I first started out, the brand Mongo represented had no voice. No one knew what Mongo was and I had to build up awareness somehow. The pop culture stuff kind of filled a niche and then took over. It's been awesome to see it all take off

, but

there is also a great deal of Mongo type of designs that I originally intended to do. Now that I have the exposure, Mongo wants to be the center of attention. So, I kind of had to take a step back and thought, it's not the image, it's the message. And there

is

plenty of messages coming.

More on that later.

Just take a few moments to let it sink in. Look out, world. Mongo is coming with a vengeance. Embrace the angry.