City : Casterly Rock
Colors: Gold and Crimson
Mascot : Golden Lion
Motto: "Hear Me Roar"



Watch my Design It Video for
The Casterly Rock Lannisters
During their first two seasons, the Casterly Rock Lannisters made some impressive offensive plays. They sidelined one of the Starks, Bran, effectively ending his season and perhaps his career with a spinal injury. At the end of the first season, Cersei, pulled a trick play and thwarted the Starks attempts at taking the lead, leading to Starks' captain, Eddard, to be taken out. Asked about the controversial play, Cersei said, "When you play the game of thrones, you win or you die. There is no middle ground."
It was supposed that Tyrion, the smallest member of the team, caused the injury and the Starks took him before the league's review board, looking for punishment. It didn't go well and Tyrion returned to play, effectively leading his own crew to victory against the Starks at Green Fork. Even though the Lannisters seemed to win, it was a draw as Jaime, The King Slayer, was taken down by the Starks at Whispering Wood.
At the end of the second season, The Baratheons offense was poised to march right into King's Landing, but Tyrion's defense, using the old Wildfire package, managed to beat back most of Stannis' offense. However, in the end, Team Captain, Tywin comes up with the assist for Tyrion. Somehow, Tyrion was not credited any points and lost his starting position on the roster after the defense almost fell apart at the hands of Stannis.
The Casterly Rock Lannisters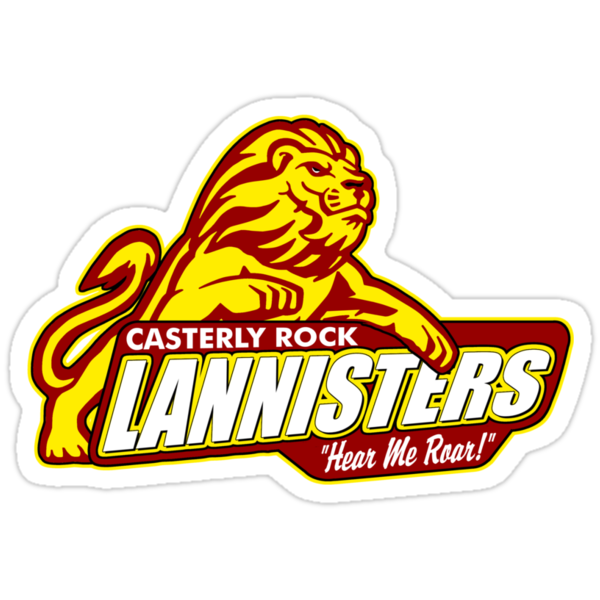 iPhone 4S/4 Def
lector Case
from Redbubble
:
$37.20
See the rest of the Westeros League at Skreened or Redbubble.
Wednesday, September 26, 2012