Posted by

Mongo
Thursday, March 21, 2013
Sorry for the delay on posting this.

I've been busy adding more spinning plates.

I launched a YouTube Channel, which is mostly me gaming… and failing, but more importantly, it will give me a chance to share some of the designs with the gloriousness that is my voice.

Kidding.

I fully intend to do a bit on The Westeros League before season 3 bows.
With that in mind, the last addition to the league is now here to capture your hearts… or at least flay your skin.
My Design It - The Dreadfort Boltons Video
Not much can be said without giving too much away.

In what promises to be the "Snake in the mailbox" moment for season 3, the Boltons, not the no talent ass clown that shares the name with an employee at Initech, play a big part in the events in Westeros.
Not knowing a lot about them, because I'm a scrub and haven't read the books, I had to rely solely upon the wikis to glean what I could.

The Boltons sigil is that of a flayed man.

Now, as I try to keep the designs PG, it's hard to display a man without skin prominently on the front of a shirt.

I almost went with a backup plan of doing the design as a red carnation, dripping blood.

However, inspiration came from another team with an almost blood soaked theme.

Who can forget the end to the curse of the Bambino and

the Boston Red Sox in 2004, complete with Curt Schilling's bloody sock?

That sight made me come back around to displaying the flayed man, but as a silhouette, almost mimicking the dangling red socks.

The lettering for the team and their home seat of Dreadfort is similar to said Beantown ballers.

Finishing the look is the motto, "Our blades are sharp."
The Dreadfort Boltons is available from my stores, now.
Black American Apparel Unisex fitted tee from Skreened: $27.99

3/4 white sleeve on black baseball shirt from Redbubble: $27.54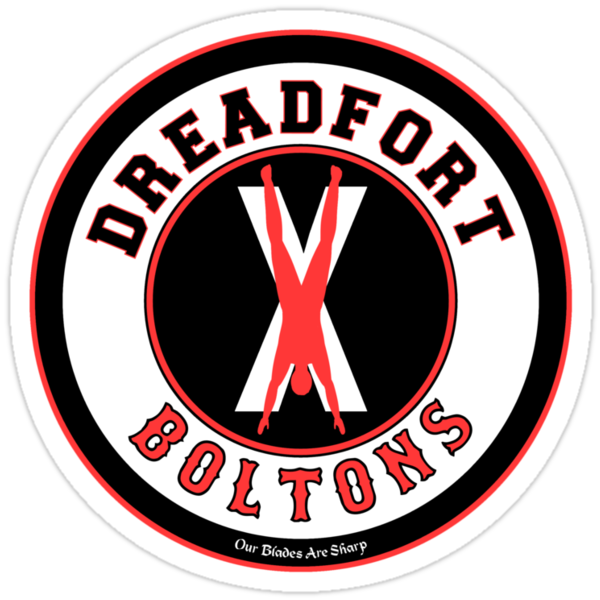 iPhone 5 Deflector Case from Redbubble: $37.20
iPad (Retina) Deflector Case from Redbubble: $63.90
L
ook out for a video walk through of each design, coming soon.