Posted by

Mongo
Friday, September 3, 2010
The "Pop Culture Back To School Tour" is reached its last stop. What better way to end this series than to give you two designs based on one of the hottest shows on television, Glee.


I admit, I didn't think Glee would take off, like it did. I was hopeful, but I usually find that shows I really like and think are very well done tend to get cancelled early on and in favor of some stupid reality show or cookie cutter sitcom starring a standup comic past their prime. Glee managed to break the mold and stick around thanks to its production values and relevancy. After all, remember Cop Rock or Viva Laughlin or The Heights? Glee at least combines great musicality with pop culture relevance. Madonna, Britney Spears, Lady Gaga, hello? Not to mention Jane Lynch plays one of the greatest viper tongued characters since Michael Emerson on LOST. Could you imagine pitting Benjamin Linus and Sue Sylvester in a battle of wills? Holy crap that would be awesome.


But, we are here to praise Pop Culture Academia and with that I give you two designs based around Glee.



William McKinley High School
Glee Club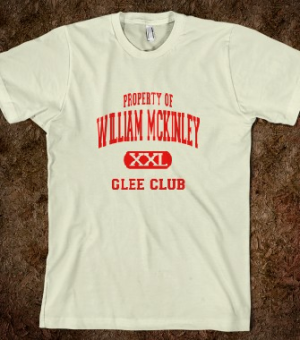 American Apparel Unisex Organic Tee From
Skreened
for $20.99
Property of High School
Glee Club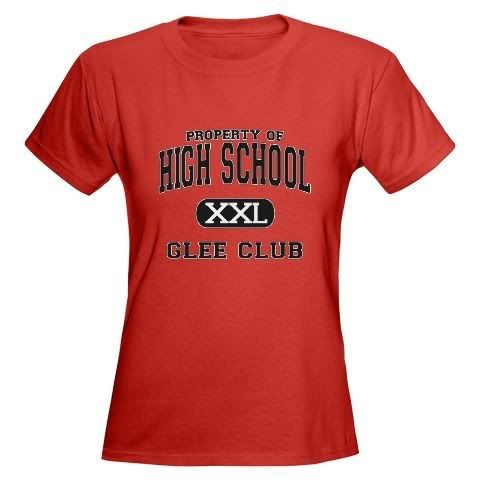 Women's Dark T-Shirt from
CafePress
for $24.99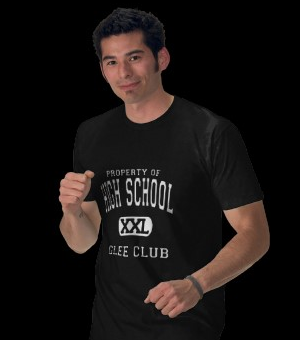 Basic American Apparel T-Shirt Black from
Zazzle
for $31.45
NOTE: The designs on CafePress and Zazzle are generic and do not call out Glee or William McKinley High School in the designs. This was their discretion.
Also, here is one for everyone's favorite cheerleading super couple made up of Santana and Brittany.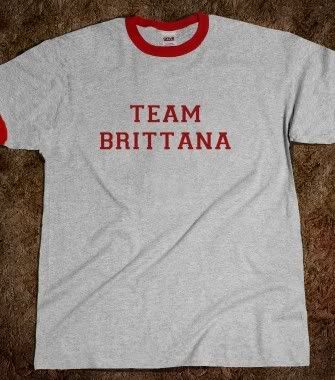 Anvil Unisex Heavyweight Ringer Tee from
Skreened
for $20.99
Fun Facts about the Series
Sue Sylvester was not originally a character in the show. Ryan Murphy did not even have her in the pilot script. Fox President Kevin Reilly said, "You need a villain."
All the actors do their own singing and dancing.
Filming has had to stop and restart several times because Kevin McHale would tap his foot to the beat of the music. He plays a paraplegic character, named Artie, who is in a wheelchair.