Posted by

Mongo
Tuesday, August 31, 2010
It's the sport of Kings. Better than diamond rings.
Football.


Allow me to beatbox now. Kidding. Way back in 1986, a year after the Chicago Bears shellacked the New England Patriots in Super Bowl XX, a little film about a rundown high school with a crappy football team made a dent in the defensive line of pop culture with a Super Bowl Shuffle-esque rap over the closing credits and scored big. Not that anyone truly remembers Wildcats as a film on par with Remember The Titans or North Dallas Forty, but walk up to anybody old enough to remember the 80s and say, "Football" in a rather airy falsetto voice and they'll know exactly what you are talking about, Willis. Goldie Hawn proved a force to be reckoned with in the company of Wesley Snipes, Woody Harrelson, and Mykelti Williamson as she strode into a locker room full of half naked… and some all naked players and took coaching by the balls. So, I give you number six on the "Pop Culture Back To School Tour," Central High's Wildcats.


Football.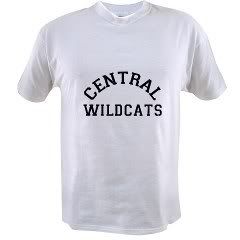 American Apparel Unisex Long Sleeve from
Skreened
for $22.99
Women's Dark T-Shirt from
CafePress
for $24.99
Fun Facts About The Movie
First credited films for Woody Harrelson and Wesley Snipes, who would go on to team up in two more movies, White Men Can't Jump and Money Train.
There is an interesting goof that takes place as Woody Harrelson's character gets demoted to slot back. In his new position, he makes a great run, only the person doing the running isn't Harrelson, he's not even white. Yet, after the tackle, a very white Woody Harrelson stands up with the ball.
Wildcats Rap