Posted by

Mongo
Thursday, October 1, 2009

Today marks the 60th birthday of the PRC, yet people can rarely find a good reason to send China an e-card wishing them a happy birthday. It could be the fact that China has a poor human rights policy. It can't be for a lack of publicity on China's part announcing the milestone. It's not like they went through the motions expecting people to know like Molly Ringwald in Sixteen Candles. After all, they released Jian guo da ye, which is a huge movie for the country boasting an all star cast including Jet Li, Jackie Chan, Ziyi Zhang and Stephen Chow, some amounting to a one line cameo. It was made to coincide with the 60 year birthday.

No, my guess is that China doesn't get a lot of Birthday Wishes posted on its great Facebook wall because a lot of sites, including Facebook are blocked by the Chinese government. If you want to believe everything you read on Wikipedia, here is a list of blocked sites.

I felt it only fitting to let China know that here, at Mongo Angry Mongo Smash, I am a little perturbed at them blocking blogspot blogs like this one. So, I thought I would show them my disdain by creating a design that speaks my mind.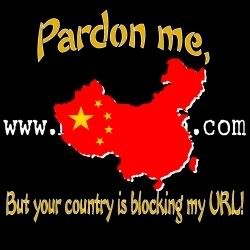 Pardon Me, But Your Country Is Blocking My URL