Posted by

Mongo
Wednesday, September 23, 2009
There have been over 300 confirmed cases of H1N1 in Western Pennsylvania. One has died from the disease and another death is pending confirmation. Still, for all the worry over outbreaks and vaccines that may or may not work, it's nice to know we can still have a sense of humor about all this. Well, at least I do. I don't know what your problem is.

Since this year's first mention of H1N1, or as we all really call it, Swine Flu, the amount of designs based on pigs, biohazard signs, masks, and other thematic images has grown exponentially. I am just as guilty at bad pig humor. Still, trying to stand out of the run of the mill designs like, "All I got was a lousy shirt" I decided to go a little more obscure or complex in my offerings.

First off there was the idea for "Swine Aid," a benefit concert to be held in hopes of raising awareness and money for a cure. It was a huge layout, complete with several layers of design that included images of a band, the flying bio hazard pig, and several fake band names. All set on a gradient of orange to yellow, inspired by the old concert fliers posted on telephone poles. On the reverse side a list of fictional tour dates for the "Swine Flu Over the Cuckoo's Nest" concert that denoted various cities with confirmed cases as well as future ones.

Then, as we all got a little more hysterical over the impact that swine flu would ultimately have on our well being, I went statistically satirical. The image was a basic PSA style design with the text, "Statistically speaking, human flu kills more per year than animal based flu." This, of course, reaffirms that we, as a species, are still more destructive than anything.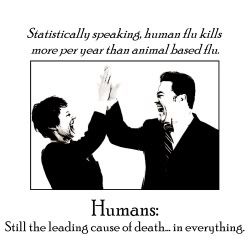 Next was a downright silly play on words with "Know the Difference." Idiotic hysteria bred a fear of eating ham, much to the delight of pigs. Sporting two boxes, one with a pig and the other with a ham, the shirt denotes one as being sick and one as being cured…get it?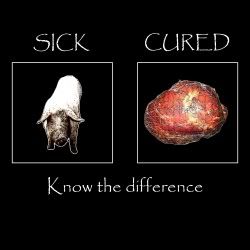 The fourth design was inspired by H1N1 but is applicable for any pandemic. It's a play on the old "Bomb Technician: If you see me running, try and keep up." This time, it's a CDC virologist who could be escaping disaster.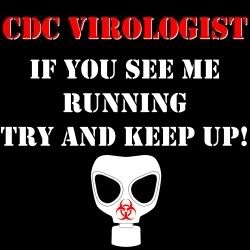 Coming back around to a shelved design, I put out "Oink, Oink, Achoo." I thought it could double as a greeting card for the sick and twisted mind. It's a simple concept of a bunch of pigs with caption bubbles going from one side to the other. The first four say "Oink," while the fifth sneezes and the sixth one says, "Crap!"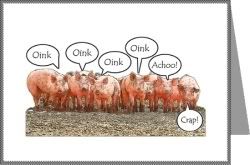 So, as we debate over getting vaccinated or just riding out the storm, gear up with some swine flu shirts. Have a good one and wash your hands you sick pigs.