Posted by

Mongo
Wednesday, October 24, 2012
We only have two designs left to showcase and they were alternates.
I say alternate because they are sort of done with tongue in cheek.

Most people will not get them unless they are familiar with the source material of the books and shows.

In fact, the only reason I did one was because I had to do the other out of sheer joy of bringing an onion into the mix.
The first is a hybrid of sorts.

Sandor and Gregor, the Clegane brothers feature prominently in the series.

In fact, my first huge "WTF" moment, other than the incest, was Gregor decapitating his horse at the joust tourney.

It was brutal because of how long it took.

Now, as evil as a person he may be,

I still hold a bit of a soft spot for Sandor, but he has his own demons as well.
For the design I wanted to go in a different direction because the obvious problem was calling the team "Clegane's Keep Cleganes".

A friend stepped in and said that I did need to do this one and offered the idea of the Mountain Hounds as a sort of compromise.

That made it all the more easy to realize the design in full.
I tried to keep the

overall color scheme intact, though had to fudge a bit since the contrast of a dark focal point on a lighter background was muddying the design.

The text part was easy as I had no real basis for inspiration.

It did remind me of a racing team or a logo for a outdoorsy type store or brand, maybe even a beer.
The Clegane's Keep Mountain Hands is available from my stores in the following:
The Clegane's Keep Mountain Hounds
American Apparel Lemon Unisex Fitted T-Shirt
from
Skreened
: $29.99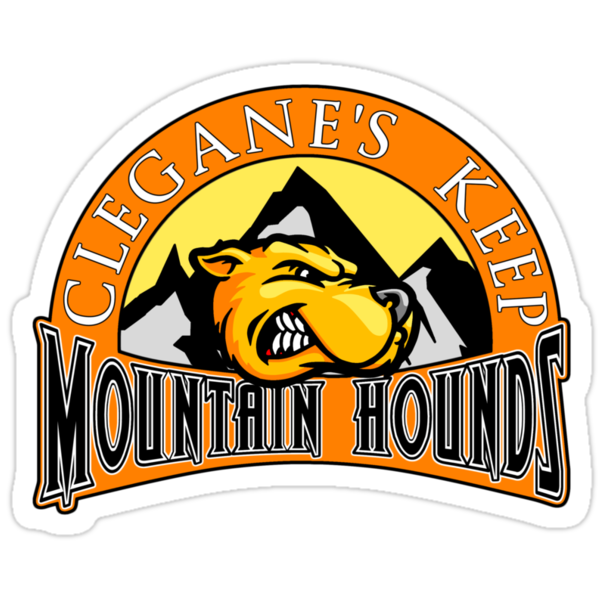 iPhone 4S/4 Deflector Case from
Redbubble
: $37.20