Posted by

Mongo
Friday, October 19, 2012
As we continue looking at the desgins of the Westeros League, we get into the real fun ones. Up next, the Valyria Targaryens.



Watch My Design It video for
The Valyria Targaryens
This was an important team to bring to life. It is the fourth storyline that plays out across the first two seasons. While the Baratheons fight the Baratheons/Lannisters and the Night's Watch venture North of the Wall, the Targaryens and the Dothraki make their way to the Narrow Sea and get ready to attack King's Landing. Daenerys totes along her three dragon babies and encounters court assassins and the mysterious people of Qarth.
According to the
wiki
, the sigil for the Targaryens is a three headed dragon, representing the three dragons that were rode into battle by Aegon and his sisters. Their colors are black and red.
Now, I had a few options in the design to consider. The ancestal home of Valyria or Dragonstone could represent the city of the team, then again, they reigned in King's Landing for 300 years. In the end, I went with the ancestral home of Valyria. I went with a more Dungeons and Dragons type of font for the name while the city remained a basic serif based one. I neglected to add in the motto because I couldn't get the words to fit into the design very well. I may go back and add it in later, perhaps.
The actual mascot was very hard to realize. I needed to have three dragons, but joined at the neck. I didn't want to take on trying to draw the full body of the dragon and while looking through sports logos for inspiration I came across one that struck me as pretty cool. So, the finished dragon heads were drawn with the Denver Broncos logo in mind.
Using the logo as the basis, I drew up the dragon head, paying attention to the angles and lines. I also added the scales based on one of the old direwolf images. I've never drawn a drago, so I kept tweaking the face until I thought it felt right. I then copied the orginal and made two more behind it, rotating each to add depth and visibility of all three. Lastly, I added the logo and city. I kept the simplicity of the Broncos logo, feeling that less could be more in this case.
So, here it is, and you can find the Valyria Targaryens in my stores:

The Valyria Targaryens
Smoke Anvil Unisex Value Fitted T-Shirt from
Skreened
: $26.99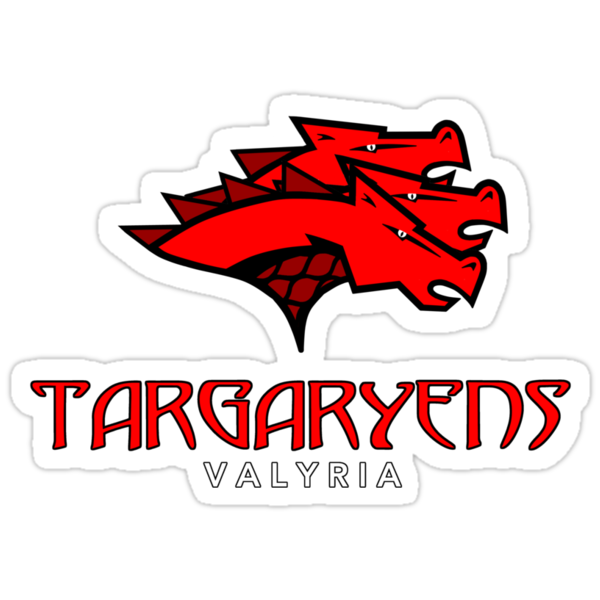 iPhone 4S/4 Deflector Case from
Redbubble
: $37.20