Posted by

Mongo
Sunday, October 21, 2012
Continuing the Westeros League design posts with the Night's Watch Rangers.

They are the last defense against the monsters beyond the Wall. Up at the end of the world, they are the sword in the darkness. Over two seasons they've trained and froze and waited for the chance to keep the things that go bump in the night away from the lands to the South. In season 2, we saw exactly what they are going to be up against as a horde of White Walkers came marching towards the gate.

OK, the Night's Watch had to be included. But deciding how to figure this one out took some time and head scratching. There isn't really a city associated with those at the Wall. I couldn't decide what to even call the team. Do I call them the Crows, because there isn't a family name associated. Eventually, I settled on Night's Watch Rangers but still didn't have a masoct, so I went with the crows as they are sometimes called.

The immediate inspiration was The Oakland Raiders due to the difference of only two letters. I based the overall design on the logo of the Raiders but substituted a bird for a Raider and used the Bastard Swords instead of the Cutlass. Since there is no real house for the Wall, I went with the Raiders colors, using a small amount of red for the eyes and tongue of the crow. The last addition was putting in the motto of "I am the sword in the darkness."

You can find the Night's Watch Rangers in my stores:


The Night's Watch Rangers
Black Unisex Fitted Tee from Skreened: $29.99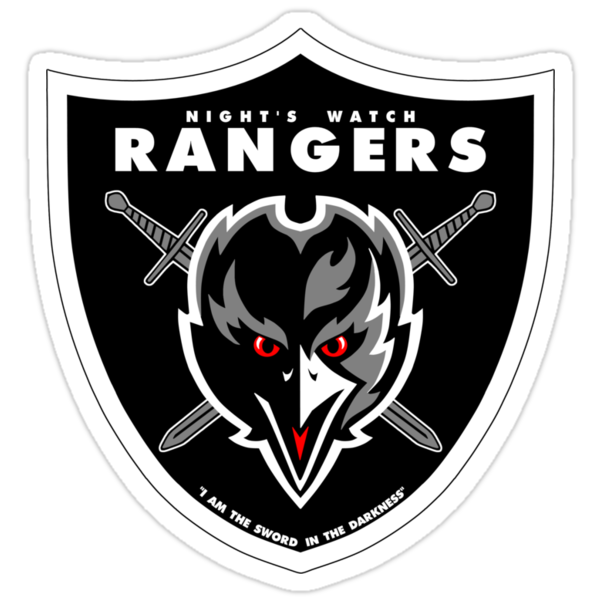 iPhone 4S/4 Deflector Case from Redbubble: $37.20
See all of the Westeros League designs at
Skreened
and
Redbubble
.