Posted by

Mongo
Thursday, October 11, 2012
OK… new format.

Let's roll.
Having only experienced the saga from the perspective of watching the show, I know there is a lot I've missed.

I also know there is a lot that is different. Season Three will probably jump the rails considerably.

However, I have tried to stay faithful to the books in terms of the designs of the various houses. Leaning heavily on A Wiki of Ice and Fire, I did some research to see how I could pull off the various themes and sigils as a sports themed logo.
Watch my Design It Video for
The Bear Island Mormonts
The Bear Island Mormonts was the first unfamiliar territory I broached.

Those of us "book" virgins have only been exposed to two Mormont characters.

Jorah, who is in service to Daenerys Targaryen and Jeor, his father, who serves as the Lord Commander of the Night's Watch at the Wall.

That didn't give me much to go on, so to

the wiki I went.
Once, I was a little more educated, I thought about how to bring the design forth.

It had to have a woodsy feel to it.

Now, there are plenty of Bears teams out there.

Of course, we all know The Chicago Bears but I didn't see them as an influence.

There's the Boston Bruins… but that doesn't really have a bear in its logo.

So, I stayed away from mainstream sports.

I needed this design to be fierce… almost three dimensional.

I didn't go really campy looking designs much yet.

Even the Greyjoys was played seriously as you can with a Kraken for a mascot.
I looked around at bear logos and bear drawings and redrew from a design I saw that really captured the feeling of being attacked.

I wanted a rounded logo but trees needed to be a part of it.

They were throwing off the lines being triangular, like pine trees are.

So, I sort of gave it a twisty look as if you are on the ground and the bear is on you.

I also included, as always, the motto, "Here We Stand".
From a logistical standpoint, it was better that I started out using the city name and the family name as the team instead of the animal.

Otherwise, the Bear Island Mormonts would have been the Bear Island Bears.

Yeah.. sometimes you have to plan ahead in these things or you will end up having to restart, jump the shark and change gears, or just continue going with what could end up as a bad design.

Of course I ended up having to jump the shark a bit later on with my last two designs.

I wanted to include them but thought it was going to be hard to justify the city/house name rule.

But… I think it worked out fine.
Check out my stores to see the Bear Island Mormonts gear:
Heather Grey T-Shirt from Skreened: $24.99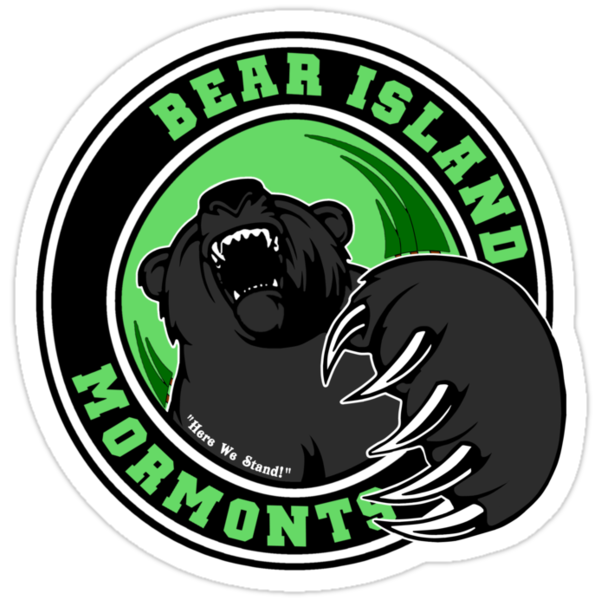 iPhone 4S/4 Deflector Case
from
Redbubble
: $37.20