Posted by

Mongo
Friday, October 12, 2012
Next up for the Westeros League is The Eyrie Arryns
Watch my Design It Video for
The Eyrie Arryns
The obvious comparison to a major league American team would be either The Philadelphia Eagles or the Atlanta Falcons. I did work off of a mix of the Eagles curvature with the MSU Spartans style of lettering. I redrew a falcon pic, I had found, which was rather small in comparison.
Now, I know what you're thinking. "He done screwed up with this one. It's a blue falcon on a white moon" And... you could be right. However, I tried very hard to stick to the original colors from the
House Arryn page on the Wiki of Ice and Fire
. The white moon was just not working with the overall design.
Compare the test on the left and the finished on the right.
I needed the blue outline around the falcon and the signage didn't work with it intersecting, overwriting, etc. So, I opted to go back to the blue moon and deal with it. It was a late night and I was just too tired to go back and redo it.
Now, what do about the wording? Where does it go? I need to fit a moon and the falcon on the design as well as the name. I tried putting the "Arryns" above the falcon, but that didn't leave a lot of visible background for the full moon. So, I opted to place it below and have the falcon claw into the sign. Even with the blue moon, I'm still a little bit perturbed with the way the outline around the wings falls behind the sign while the talons fall in front of it. I had to duplicate the layer with the bird above and below the one with the sign so I could erase out the rest of the falcon that would be sitting behind the sign.
Overall, I'm about 75% happy with the finished product.
Check out my stores to see the Eyrie Arryns gear:
Heather Grey T-Shirt from Skreened: $24.99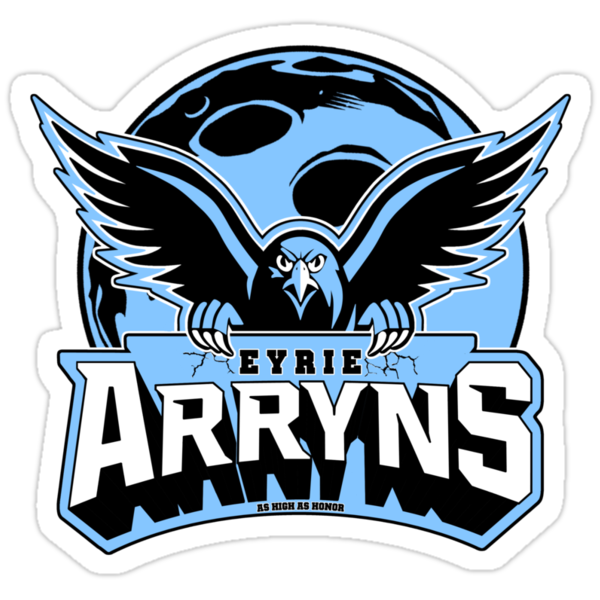 iPhone 4S/4 Deflector Case from
Redbubble
: $37.20