Posted by

Mongo
Tuesday, August 24, 2010
It's that time, again. Time to get out the Trapper Keepers and pencil boxes. Here at Mongo Angry! Mongo Smash! we are revisiting the schools of Pop Culture by bringing you a different tee every day until… I get lazy or forget. First up, let's head out to fictional Grand Lakes University for some Dylan Thomas and Triple Lindys with Back To School.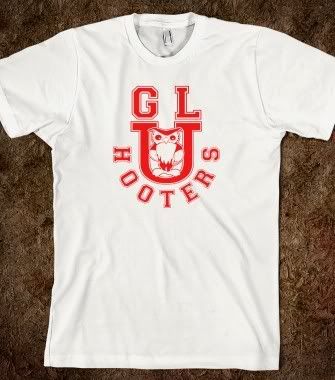 From
Skreened
, a plain white tee
with the Grand Lakes University logo, starting at $19.99.
You can choose from different styles and colors in my store at
Skreened
.
From
Zazzle
, women's red long sleeve shirt
with the logo in white, for $30.35
Get this Back To School themed design on other products
from my
Zazzle store
.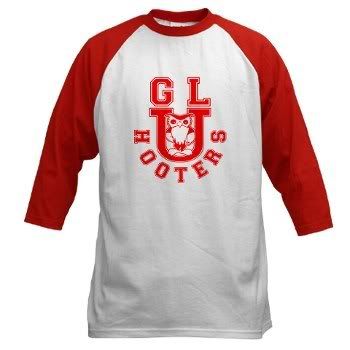 Finally, at
CafePress
, a long sleever baseball tee for $21.99
Get this Back To School themed design on other products from my
CafePress Store
.
Fun Facts About The Movie
The room that Thornton Melon takes his final exam in is the same room that Alex Owens performs her audition in for the movie Flashdance
There's a song playing at the frat party just before everyone bolts for Mellon's. That song is from a little known metal singer who became better known for his long locked, easy listening phase in the late 80s, early 90s. It's that no talent ass clown Michael Bolton.
This movie completes the Awesome 80s Bully Trilogy for William Zabka who also played the jock/bully in The Karate Kid and Just One of the Guys. And yes, I made up the Awesome 80s Bully Trilogy just now. Get over it. Grrr. All hail William Zabka!