Posted by

Mongo
Sunday, August 29, 2010
For the number five school on our "Pop Culture Back To School Tour" we've decided to concentrate on a specific discipline, namely medicine. This 80s tale of reanimating the dead was inspired by the works of H. P. Lovecraft. Re-Animator became a cult film spawning two sequels and a cult following. That following led me to create a design for the Miskatonic Medical School of Arkham Massachusetts. And now, it's available for you and all your devilish intentions.



Miskatonic Medical School
Get a Jr. Spaghetti Tank at
CafePress
for $19.99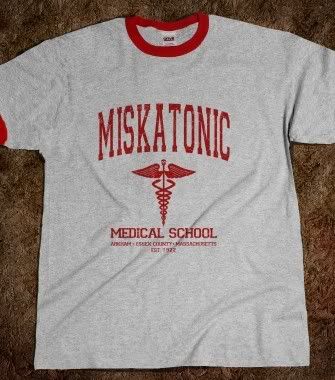 Get an Anvil Unisex Heavyweight Ringer Tee at
Skreened
for $20.99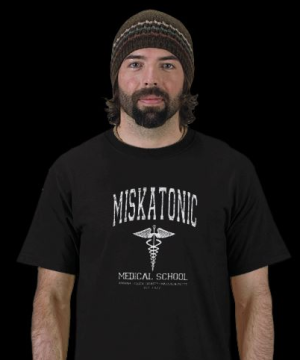 Get a Basic Dark Shirt at
Zazzle
for $25.85
Fun Facts About The Movie
25 gallons of fake blood were used throughout the film.
The first body to be reanimated at the morgue was Arnold Schwarzenegger's stunt double.
James Cameron's father makes a cameo in the film as man with his jaw bandaged up.