Posted by

Mongo
Thursday, August 26, 2010
Next we take a tour of the snowy and rocky terrain of Colorado on our Pop Culture Back To School Tour. In 1984, America was invaded by Communist forces and a small band of teenagers and their twenty-something leader fled into the hills of Calumet. Eventually, they became a guerilla force known as the Wolverines which was based on their school mascot and begin to execute attacks on the occupation forces. This, of course, is all a part of the movie Red Dawn. In the waning days of the Cold War various films came out speculating the events of World War III, including Amerika, The Day After, and Miracle Mile. But none were as well received as Red Dawn. It became a pop culture mainstay due to its timing and the cast of future stars like Charlie Sheen, Patrick Swayze, and Jennifer Grey. You can usually find various websites offering shirts based on the Wolverines graffiti logo in the film, but since this is a series about schools in pop culture I went for the school logo which is briefly visible on the scoreboard and the varsity jackets of the cast in the opening minutes of the film. So, I give you the Red Dawn inspired Wolverines logo.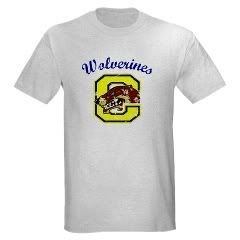 Ash Grey Light shirt from
CafePress
for $17.99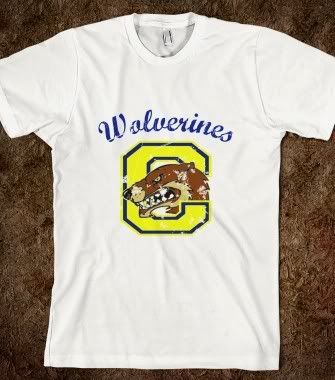 Unisex Fitted White shirt from
Skreened
for $19.99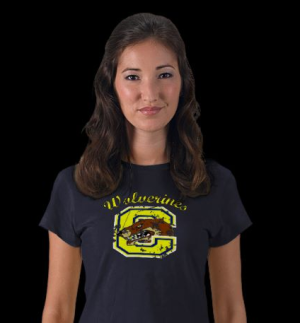 Dark Blue Women's shirt from
Zazzle
for $30.35
Fun Facts About the Film
The Flamingo Kid was the first film to receive the rating of PG-13 but Red Dawn was the first film to be released in the US with the newly adopted rating.
The film was entered into the Guinness Book of World Records for having the most acts of violence in any film up to that time.