Posted by

Mongo
Friday, August 27, 2010
Let's take it to the mat for number four of the Pop Culture Back To School Tour. We head into the Pacific Northwest on a Vision Quest. As far as sports movies go, there are not too many out there that have to deal with the sport of wrestling and I don't mean the WWE. I'm talking about high school wrestling. Vision Quest gives you a portrait of a high school athlete that goes against man and nature to complete some kind of quest to find some meaning in his life. Dude, your 18. Mellow a bit.


Anyway, Louden Swain decides to drop into a different weight class to wrestle three time state champion, Brian Shute. In doing so, he alienates his teammates, experiences health problems, and falls in love with an artist who stays with the Swains on her way through to San Francisco. Along with being an 80s classic, the movie boasts some great music including Journey's "Only the Young", Red Rider's "Lunatic Fringe" and Madonna's "Crazy For You", which she performs in the movie as a club singer.


Shout to the top as you lug a tree trunk up and down stadium steps while wearing a Vision Quest inspired Thompson High School Warriors tee.



Thompson High School Warriors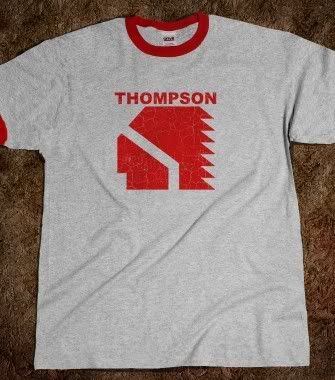 Get it on an Anvil Unisex Heavyweight Ringer Tee from
Skreened
for $20.99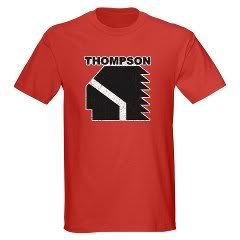 Get it in red with a black design from
CafePress
for $23.99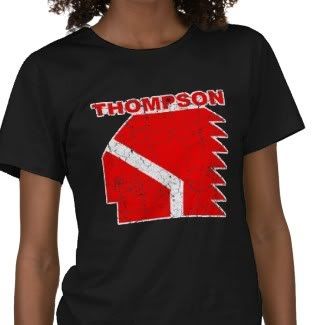 Get it in on EDUN LIVE Eve Ladies Essential Crew shirt from
Zazzle
for $28.10
Fun Facts About the Movie
Frank Jasper, who plays Brian Shute, did very little acting after Vision Quest. IMDB lists only three credits including Brian Shute. However, Jasper did reprise or spoof his pop culture claim to fame by appearing in the video for Van Halen's "Right Now" holding a cardboard sign that says, "I Will Wrestle You For Food." Look at 1:10 on the video.